If I can't live somewhere beautiful, I need to go there. The process of going...the driving...the trip...is almost as healing to me as the destination itself. I love the journey. Truly, there is nothing like a road trip.
So we started out Wednesday morning around 7 am, almost on time. It has really seemed the last few times we went on a trip that getting ready to go was so exhausting, we didn't even want to go. Robb observed that this time, it didn't feel like that. Mattie was bored the day before and packed her things as well as Vin's and Charleigh's. While we stood around the night before leaving, fretting about what to do with our dog, Sara called to ask if we needed her to watch the dog. It felt like God wanted us to go on this trip and sent us out the door with wings on our feet.
I'd not been very far south in Arkansas yet. Only about forty minutes south, last summer when we got lost looking for a blueberry patch. This state is growing on me. Tiny roots have begun to sink down into this soil and I am starting to feel like it could be home. I read a book written in the forties about a cotton picking family in Arkansas, and of course, that life is well-depicted in
Walk the Line
. Knowing about a place really helps you to like it better. As the landscape flashed by, I could feel the excitement of seeing something all-new to me growing inside. As we passed a brown state-park sign which read,
Toad Suck Park
, I knew it was going to be not just a good trip, but an event.
Northwest Arkansas is part of the Ozark Mountain chain, and has that look to it...we've said all along it looks like the Poconos where we went to college in PA. But as you pass through Little Rock, it all changes and flattens out like mid-Michigan. But instead of combed rows of corn and soybeans, I was fascinted to see rice pads and cotton plants. The rice pads are not flooded now like they were when Robb saw them a few months ago, but cotton can be picked through December and I saw a whole field of it, untouched. I'd never seen that before. I thought again of the cotton pickers...what a life of hard work they had. Johnny Cash said it was so hard, you'd do anything to get out there.
Next on the trip was Memphis...which rises out of nowhere. One minute it is open fields pocked with house-trailers and a few shotgun houses, and then there is is this city with a glass pyramid and the bridge arching the Mississipi River and skyscrapers. Robb and I agreed to take a trip here soon...there are things we want to see here...the hotel where Martin Luther King was shot, the museums, Graceland....
It was interesting how things on this trip wove together, like that I brought along the gigantic U2 biography to read. I can't read in the car...I get horrendously car-sick, but in the hotel, while waiting for the rest of the family to arrive, I read the part where Bono and Adam took a road trip from California and stopped in Memphis and got somebody to open Sun Records for them. I also read about the time they had dinner with Johnny Cash...when they came into the house, there was a gigantic spread of food on the table that rather embarrassed them. June explained that this was part of a photo-session for a cookbook she was doing and that they'd be eating in another room. They were relieved. Johnny prayed a "long and meandering prayer" which Bono found moving and then remarked, "Sure do miss the drugs, though."
Johnny Cash. He's been everywhere, man.
We also began listening to Peggy Noonan's biography of Ronald Reagan, entitled "When Character was King." I adore Ronald Reagan, but Bono said he made America selfish. I disagree. I think that Reagan put America in the place to be generous now, which we couldn't do now if we hadn't regained our footing as a country back then. Also, Ronald Reagan died the same summer as Dr. Carter...and I often equate them in my head...they both had alchoholic fathers, they both were devoted to their wives in a way that almost excluded other people entirely, they both loved California and exhuded it's brightness and optimism, and they both had a profound effect on me.
See how tangled up it all is? How you think in long threads of ideas and people and places and moments...
The sun shone and the road was clear and dry and the road gave way from the flat Mississipi Delta to the rocky outcroppings of the mountains that sprang up somewhere in Tennessee. I'd never been to Tennessee and it surprised me how much nothing there is to see between Memphis and Nashville...so I might have dozed off a little.
We asked the kids today to think about the trip and tell us what was their favorite thing about the trip and one thing that they learned. I'll tell you one thing I learned....Nashville is some town. Neither Robb nor I expected to take to it so quickly...like a warm, fun person who instantly makes you feel at ease and just a little more alive all at once.
It's big. Bigger than I expected. It sprawls out all directions. We stayed in Goodletsville....north of the city, near Hendersonville (one of the homes of Johnny Cash.) My brother in law picked out the hotel and then at the last minute, couldn't come on the trip. I was sorry that he and Karen couldn't be there...I'm sure I wasn't the only one who liked the idea of the family circle being unbroken.
So there we were with a pool and a hot-tub and a-larger-than-usual-continental breakfast and Hooters across the street with a big fake lighted palm tree and a mall down the road and every other imaginable retail establishment. Ugly, but comfortable...like a well-known Walmart. The family poured in from VA and MI and the hugging and laughing and planning began. The kids wriggled like puppies, and my nephew shocked me by being so grown up since I last saw him over a year ago. He'd grown his hair out long and seemed much more sturdy and taller than the scrawny red-faced six pounder I first met over 11 years ago ever could have become. He shrugged it off with a grin when I told him how cute he looked, while I was suddenly feeling awkward around this near-teenager.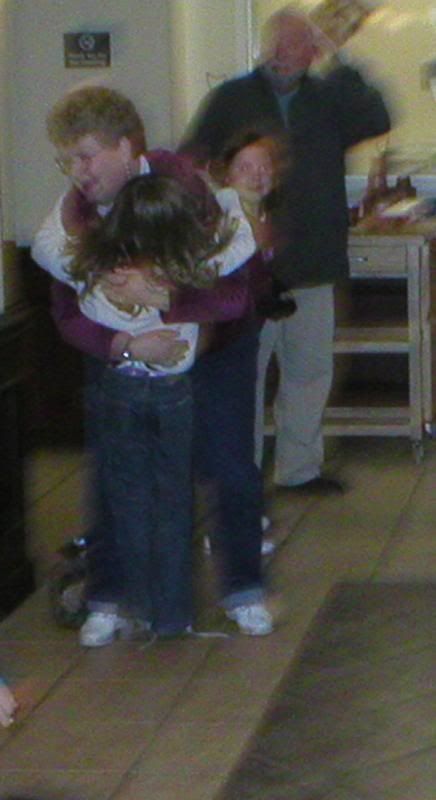 When we'd conquered dinner, it was time for Christmas presents. I got my 2 lbs of Dunkin' Donuts coffee beans which Mars (my mother in law is called that by everyone including grandchildren and husband for some reason that no-one can clearly recall, but it has something to do with a bunny joke that she used to tell years ago)-anyway, she didn't want to get coffee for me because, I suppose, it seemed like a strange gift, but I was going to be very bummed if I didn't get it. I am already looking forward to morning because of it. And now that everyone has their's, I can tell you about the gifts I made this year: I cut up high-end, wool sweaters into squares and sewed them into colorful and cozy throw-blankets. I'd seen it in a magazine several years ago and always wanted to try it. My major mistake was not making myself one...but I may still get to that, maybe even soon. One great thing about this trip was that I feel creatively restored. That's why it's very important to write it all down and tell you (and myself) all about this trip. Stay tuned for more as it percolates along with the coffee.